Welcome to Munson
At Munson, we create transformational arts experiences that cultivate curiosity and creativity, enlighten, educate, and inspire. On March 28, we announced the new name and brand identity for our century-old organization, which traces its roots back to our founding family. 
Why are you changing the name? 
Our vision, mission, and commitment to the community remain unchanged. However, with a name that was 10 syllables and hyphenated, very few people called the organization by its full name or understood the larger organization behind it. Our acronym, MWPAI, was a mouthful, hard-to-remember, and confusing for those not "in-the-know." A new identity and strong, memorable name will clarify that we are a multifaceted arts organization.
Why Munson? What about representing all three generations of the founding family? 
Munson honors our history and launches us into the future. We are acknowledging the more than 100-year legacy by focusing on "Munson," the family name that runs through all three generations of our founding family, from Alfred Munson to Helen Munson Williams to Rachel Munson Williams Proctor. 
Helen Munson provided the spark that ultimately led to the founding of the organization. She was the first generation of Uticans in her family, a savvy businesswoman, and an active art collector who instilled in her daughters a dedication to philanthropy and an appreciation for culture and the role of the arts in a community. 
The family will continue to be honored at the Museum. The Founders' Galleries and Fountain Elms share the family history and portraits; their collection, referred to as "the Proctor Collection," remains central to the Museum's holdings; and in 2022 the Museum established the Helen Munson Williams acquisition fund.
How did you develop the new name and visual identity?
This change is the culmination of more than five years of conversations—including focus groups in 2018 and 2022, public digital surveys, staff input, conversations with regional and national colleagues, board of trustee agendas, and many meetings.
We interviewed 13 prestigious national branding firms, and chose to work with Order from Brooklyn. This creative firm extensively researched the organization and our vision, our strategic plan, and what the organization means to the community.
Is anything else changing with the name?
The new name is a part of our five-year strategic plan that emphasizes Munson's role as a proud, active cultural leader in the greater Utica community and a welcoming arts destination. We are looking forward to making improvements to our 25-building campus, such as more neighborhood green spaces, a redeveloped interactive family gallery in the Museum, and updates to our classrooms and teaching studios. We are in the beginning stages of these projects, and have initial plans that we're excited to share in the months ahead. 
---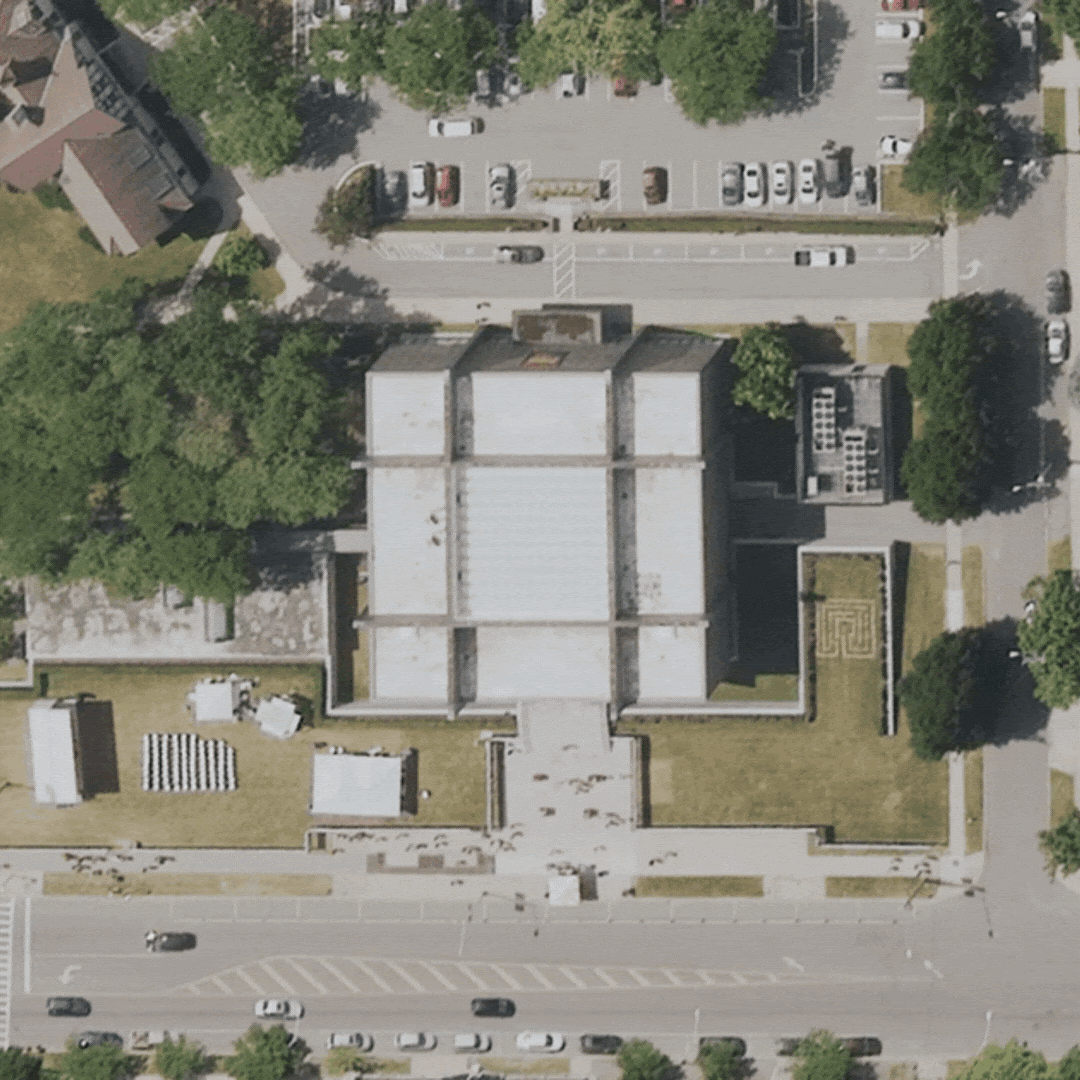 Our new logo
A bird's eye view of the city shows that our campus is centrally located in Utica. From above, the landmark Museum's geometric shape is distinctive, with many parts creating a unified whole.
Its shape inspired our new icon and is a symbol that signals unity, centrality, and relationships. It connects our past with our future–historic, modern, unifying.
---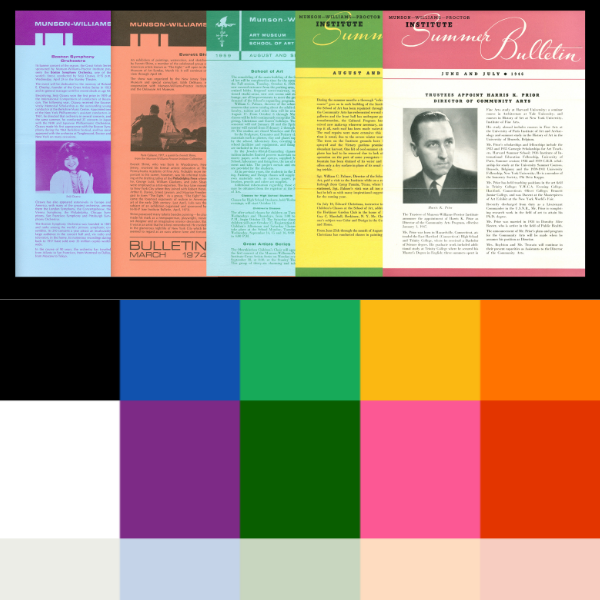 Our new colors
When Brooklyn design firm Order crafted Munson's new brand identity, they reviewed an archive of Museum publications. The vibrant paper and ink selections for issues of past Bulletins provided direct inspiration for the organization's new color palette.
These vibrant pairings from the '40s through '70s created the basis for the way the colors are used together in the Munson brand today. Notice these changes in our publications and on campus signage and banners.
---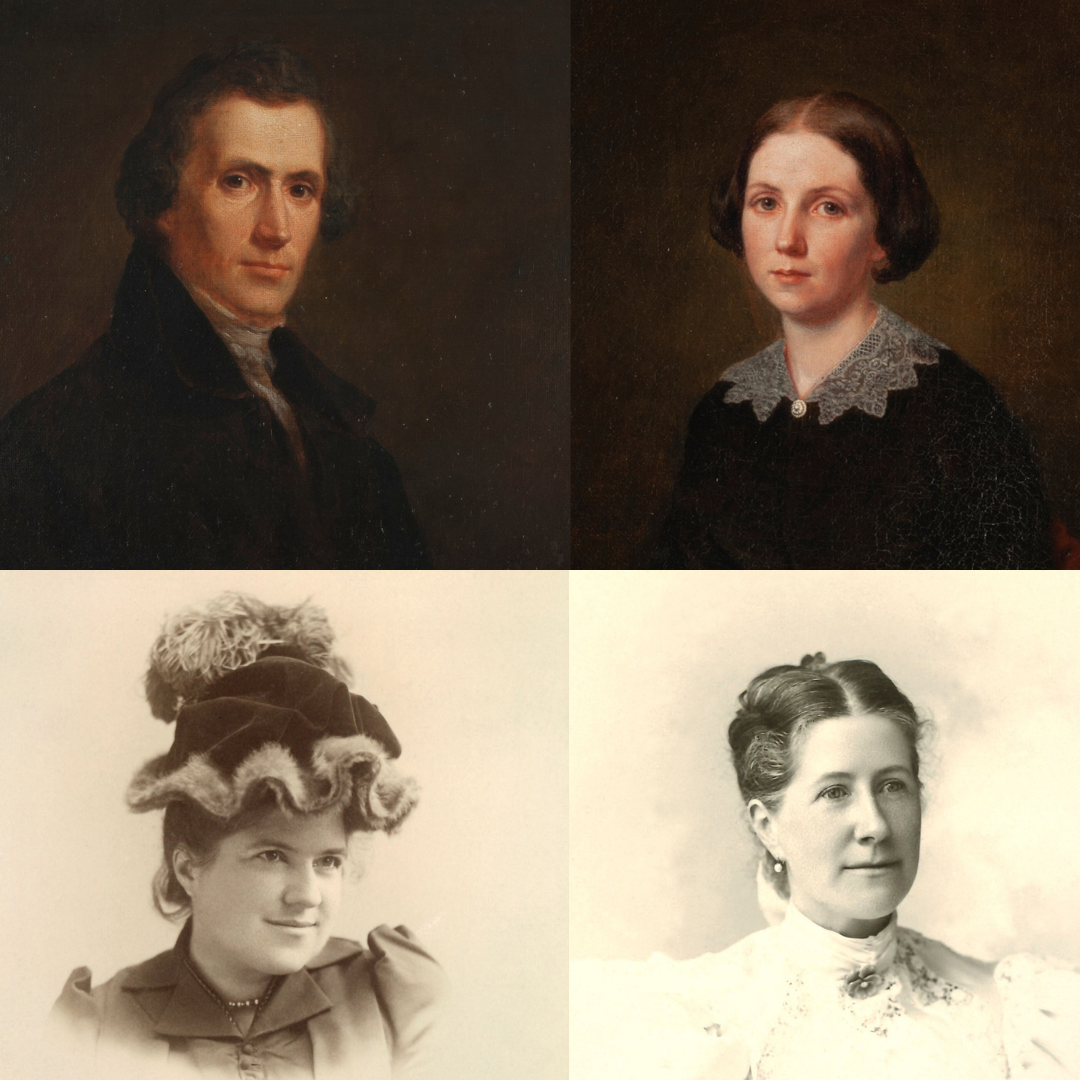 Our founders
The Munson family name runs through all three generations of our founding family, from Alfred Munson to his daughter Helen Munson Williams to her daughters Rachel Munson Williams Proctor and Maria Watson Williams, and their husbands Frederick and Thomas Proctor.
The family is honored at the Museum through the Founders' Galleries and their history and portraits in Fountain Elms. The family's collection, referred to as "the Proctor Collection," remains central to the Museum's holdings, and in 2022, the Museum established the Helen Munson Williams Acquisition Fund.
---
---
Utica institution announces new name, vision for upgrades to campus
MARCH 28, 2023. UTICA — Munson-Williams-Proctor Arts Institute today announced that the Utica museum and arts organization will now be called Munson, and it shared the first steps in a master plan to redesign its 10-acre, 25-building campus in the city's downtown.
"Clarifying our identity and making our campus even more welcoming to the community are vital components of the five-year strategic plan we launched in 2019. Community engagement and exceptional experiences are central to all we do.
"Munson is a cultural heart of the region and a vibrant arts destination. Our dynamic brand and bold blueprint for the campus were developed over several years. These changes build on our vision and strengths to prepare us to better serve the region for generations," said Munson President and CEO Anna Tobin D'Ambrosio.
Brooklyn design agency Order worked with Munson and its community to learn its history, mission, and vision to create a vibrant identity that honors the legacy of the 104-year-old organization and represents a lively outlook.
"We met with hundreds of community members, surveyed our visitors, members, and staff, and held focus groups to better understand what is important to our constituents, and what they value in our organization. We learned that while the organization has a strong national and regional presence, few knew us for our full, 10-syllable, multiple-hyphenated name. Our new name and brand will clarify who we are as an organization," D'Ambrosio said.
In addition to shortening the name, Order's brand identity for Munson includes a new palette derived from lively color combinations found in archival Munson publications, and a custom revival style typeface inspired by the hand-lettering original to the 1960 Museum of Art building.
In their research, Order discovered that the original signage and hand-lettering in the Museum was created by trailblazing mid-century graphic designer Elaine Lustig Cohen. Munson opened an exhibition of Cohen's work on March 28. The brand also introduces a symbol for Munson based on a bird's-eye view of the Museum of Art building.
Coinciding with the name change is the announcement of a blueprint for a redesign of Munson's campus. International architecture and urban design firm Cooper Robertson, headquartered in New York City, assessed Munson's campus and created a campus master plan. The firm's proposals for Munson include reimagined public green spaces, a potential cafe and an engaging family gallery in the Museum, and a maker's studio and updated studio classrooms for Munson's School of Art. Cooper Robertson's work includes the Princeton University Art Museum, Whitney Museum, University of Miami, and the Buffalo AKG Art Museum.
"Across our campus — in the Museum galleries, auditorium, and in our classrooms and studios — Munson harnesses the power of art to cultivate curiosity, educate, entertain and    inspire central New Yorkers and beyond. The arts are also an important economic driver in our region. A strong, focused plan for the future of Munson is a positive development for all of us," said Munson Board of Trustees Chair F. X. Matt III.
The name of the college of art and design on Munson's campus will also change to reflect the overall name change of the organization. Since 1999, Munson has partnered with the Pratt Institute in Brooklyn as an upstate extension campus of the prestigious college of art and design. Students may choose to complete the first two years of Pratt Institute curriculum in Utica with smaller class sizes and a lower cost. Currently known as PrattMWP, the college of art and design will become Pratt Munson starting with the incoming class of the 2023-2024 academic year in August.
###
Munson is an internationally recognized fine arts center in Utica, New York, serving diverse audiences through a renowned Museum of Art, live performances and events, community arts classes, and PrattMWP, the upstate extension campus of the prestigious Pratt Institute.