Anna Tobin D'Ambrosio
President and CEO
(315) 797-0000 ext. 2159
Anna Tobin D'Ambrosio was appointed President and CEO of MWPAI in August 2017. She previously served as Director, Museum of Art, from 2012-2017 where she staged well-reviewed exhibitions including Shadow of the Sphinx: Ancient Egypt and Its influence, Monet to Matisse, The World through His Lens; Steve McCurry Photographs, and Roaring into the Future: New York 1925-35. These exhibitions brought world-renowned artworks to the region, delighting visitors from The Mohawk Valley, New York State, and well beyond. Ms. D'Ambrosio has enhanced the Museum's programming, actively engaging the community, significantly increasing visitation, drawing new audiences to the Institute, and educating thousands of school children. In 2017, she was selected as a "Woman of the Year" by New York State Women, Inc., Mohawk Valley Chapter.
From 2007 to 2012, Ms. D'Ambrosio served as Assistant Director, Museum of Art. She has also held the position of Curator of Decorative Arts from 1989-2015. A native of Albany, New York, D'Ambrosio holds a master's degree from the Cooperstown Graduate Program, received her bachelor's degree from College of the Holy Cross, Worcester, Massachusetts, and has furthered her studies through the Attingham Program, Victorian Society Summer School, and a Winterthur research fellowship. During her curatorial tenure, Ms. D'Ambrosio added important works by cabinetmakers including Herter Brothers, Daniel Pabst, Kimbel and Cabus, Charles Rohlfs, Lockwood de Forest, and Louis C. Tiffany to the collection as well as significant examples of silver by Tiffany & Co., Gorham Manufacturing, and George Sheibler.
Ms. D'Ambrosio has lectured extensively throughout the United States and has curated more than 60 exhibitions on American furniture, silver, and textiles. Her exhibition, A Brass Menagerie: Metalwork of the Aesthetic Movement, was called "One of the small, must-see exhibitions this season," in an August 2005 review in The New York Times. The accompanying catalogue was honored with four awards including citations from the Victorian Society in America, the Victorian Society Metropolitan Chapter, The Association of Art Museum Curators, and Historic New England.
Her periodical publications include articles for The Magazine Antiques, 19th Century (the magazine of the Victorian Society in America), Metalsmith, and book reviews. She also contributed to and edited the book Jewels of Time: Watches from the Munson-Williams-Proctor Arts Institute in 2001 and oversaw the corresponding five-year national and international tour of the Museum's 16th- through 20th-century European watch collection. Her 1999 book Masterpieces of American Furniture from the Munson-Williams-Proctor Institute won the 1999 Victorian Society in America Ruth Emory Book Award for its contribution to furniture scholarship.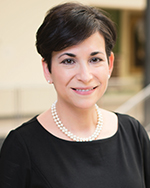 Return to Leadership & Contacts